Film blowing and flexographic printing line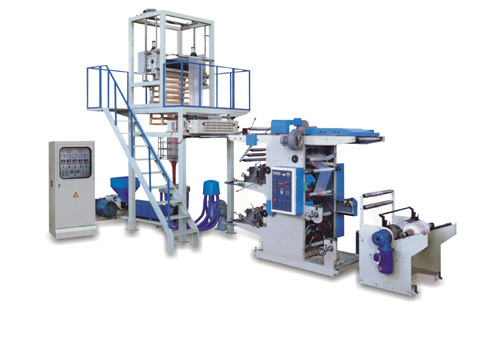 1. Characheristics:
The unit integrated film-blowing & printing can save labor force, working space, and improve the quality of products and economic efficiency
2. Use:
It is applied to blow plastic films like low density polytene (LDPE), high density polytene (HDPE) and linear low density polytene (LLDPE). It is widely used in the civil and industrial fields.
3. Main Technical Parameters:
| | | | |
| --- | --- | --- | --- |
| Model | MK-FM50/RY2600 | MK-FM55/RY2800 | MK-FM65/RY21000 |
| Applied material | LDPE, HDPE, LLPE | LDPE, HDPE, LLPE | LDPE, HDPE, LLPE |
| Screw diameter | 50mm | 55mm | 65mm |
| Screw L/D ratio | L/D28:1 | L/D28:1 | L/D28:1 |
| Blow film motor power | 11kw | 15kw | 18.5kw |
| Max extruded quantity | 36kg/h | 50kg/h | 70kg/h |
| Film head diameter | ¦µ60, ¦µ80 | ¦µ80,¦µ130 | ¦µ80, ¦µ160 |
| Blow film width | 600mm | 800mm | 1000mm |
| Blow film thickness | 0.008-0.10mm | 0.008-0.10mm | 0.008-0.10mm |
| Length range of printing | 191-1200mm | 191-1200mm | 191-1200mm |
| Printing width | 560mm | 760mm | 960mm |
| Total power | 28kw | 32kw | 40kw |
| Weight of machinery | 3800kg | 4200kg | 5000kg |
| Dimensions | 6000x2400x4000mm | 6200x2600x4300mm | 6400x2800x4800mm |